Headscarves and turbans for the hairless time
Head coverings such as Headscarves and turbans for the hairless time are suitable for all day wear. To some extent, they replace the comfort that hair otherwise provides. In cases of temporary hair loss due to chemotherapy, caps or headscarves are often worn as an alternative to wigs.
Especially in a domestic environment, a cap sometimes seems artificial. Then headscarves are the solution. The prerequisite is that they fit comfortably and are breathable. We rely on fabrics that are light and comfortable and a good cut for a comfortable fit. Brave and not so brave can find color combinations and pre-tied headscarves that make it easier to start wearing turbans.
How are chemoturbans tied?
Many people associate a turban with elaborate and complicated wrapping or tying techniques. With our chemoturbans, this is completely eliminated. We have focused on turbans that are already tied. This eliminates the preparation time and the turban slips less. Turbans made of cotton are more slip-resistant than those made of viscose, polyester or silk. Cotton also keeps the head nice and warm, especially at night. When it comes to breathability, cotton and silk are far ahead. Thin fabrics let sound through better than thick ones. So there's a lot to discover and try out!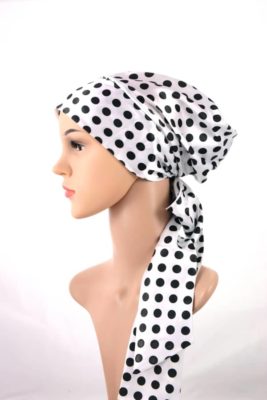 That's why we recommend the turban as an alternative for those who like to experiment. We have colorful (Turban Flora and Turban Gloria) or elegant and less dazzling (Turban Hannah) in our assortment. Among the variety of colors, patterns and fabrics you can find the right model for everyone. Complete or just a little pre-tied as a headscarf for everyone.
Universal and combinable:
If you want to slowly approach the topic of turbans, put a sleeping cap or a beanie (chemo cap Bella) under your turban. We can also recommend real hair bands by Julia Sieckmann from Hamburg as a variation option. This makes the chemoturban look not so tight and the color can be adapted to different clothes.
The turban then looks like a decorative cloth draped over it. Even later, when your own hair grows back, turbans can be used as a decorative head flatterer to cover up the hairline that may still be growing hesitantly.
Turbans and scarves for the hairless period.
These beautiful and colorful head scarves or chemo turbans are functional and very suitable for chemo patients. They are multifunctional and can be used to protect the head from cold, wind, snow and sun.
They are elastic, breathable, quick-drying and keep their shape, suitable for a head circumference of 52 cm – 63 cm. Put on, adjust, ready: in just a few seconds the chemoturban sits perfectly and comfortably on your head!
Playful and colorful:
Each turban is individually packaged. Chemo scarves to tie, chemo hats, chemo caps or sleeping caps, browse our online store! Thanks to standard sizes, our chemo headpieces can be put on quickly and fit almost any head. A trendy, colorful headgear ensures a healthy appearance and is very comfortable to wear. Whether made of cotton, satin or bamboo, all materials are carefully selected for a comfortable feel!
Let your creativity run wild! Change the techniques when you are a little more skilled. Coordinate the color of the bandana with your clothes or other accessories such as handbag, shoes, lipstick. We can only recommend experimenting with different accessories like ribbons, hair accessories, flowers, brooches, ear clips.
Have fun browsing our store and wearing gluecksmuetze headpieces!