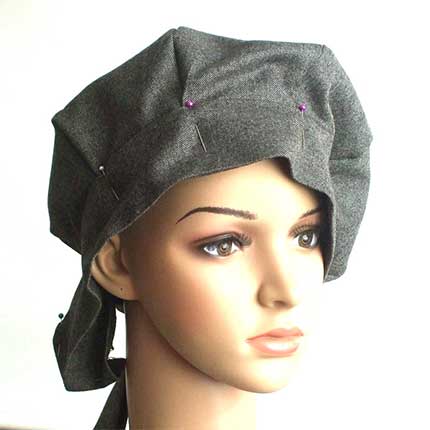 Chemo Turbans Cancer Caps
Once the malignant spread in the body tremendous mental and physical changes occur because of radiation and chemotherapy. These approaches damage the cancerous cell which results in hair loss and steady baldness. Therefore, leukemic patients after the systematic sessions of chemotherapy mostly require a comfortable hat. Our chemo turbans cancer caps are a blend of comfortable material. These cancer hats are the best chemo hats to keep your confidence even after the hair loss. Our all varieties of chemo turbans are spongy, soft, and durable. These turbans give you hope of life with their unique shades. We also add an extra protective layer to them to avoid the radiation in chemo and radiation therapy. These chemo turbans are best to avoid infections, radiations, and seasonal effects due to your massive hair loss.
About Us
Our Story
Variety of Chemo Turbans
Our Chemo hats are protective of the sensitive scalps of cancer patients. Your scalp may feel irritated because of hair loss. So, our chemo turbans are the best choice for your scalp. They are very soft with the composition of breathable fabric we make them very diligent. We offer a cotton chemo turban that is composed of natural fiber. These chemo caps are very soft, comfortable, and durable. Most of the cancerous patients tender our cotton turbans as the cotton fabric is very smooth and adjustable. In cotton turbans, we gave a range of beautiful colors. You can adjust them with your color styling and seasonal rotation.
Gluecksmuetze's most well-known variety in chemo turbans is Bamboo turbans. It is so soft and silky. Easy to wear and adjustable. This turban has antibacterial properties. Because they support the scalp of cancerous patients to avoid bacterial, fungal, and viral infections. Bamboo chemo turbans are pill-resistant, absorbent, and durable. In bamboo turbans, we have versatile and practical varieties with numerous color shades.
Gluecksmuetze also provides fleece chemo turbans that are warm, sloppy, and shaded. These turbans are best for cold water due to their warmth properties. Another variety we offer terry cloth chemo turban with soft fabric. These turbans are highly spongy so they avoid heating effects during radiation and chemotherapy.
Our wool chemo turbans have been manufactured for cold weather. They are composed of breathable and natural fibers. They provide perfect insulation and warmth to your scalp in cold. We also provide soft night wool caps for your satisfactory naps. Our other varieties of chemo turbans are Berber, tweed, Lycra, and corduroy. These are designed for cool weather. Because of their uniqueness and colorful appearance, you show your class.
BENEFITS OF CHEMO TURBANS

Protection from fungal and viral attacks
Best chemo hats for sensitive scalp. Because they provide you protection from bacterial, and viral infection attacks. Chemo turbans give you full coverage of the head. We design them to cover the entire hairline. They protect you from the tangled, pollutants, and diverse environmental chemicals. We extend them to the nape of the neck and ears that hide your hair loss and guard against the sun and cold
Stylish and Adjustable Chemo Turbans
Our chemo hats are comfortable and give you a pretty look. They are stylish and adjustable with your taste and wardrobe. You can easily carry them with any dress. Moreover, they are simple yet diligent to maintain your class. We used stuff to make close fitting and avoid slippery fabrics. Chemo turbans are composed of durable materials and have stretchy fabrics for adjustable inner and give you a custom fit.
If you are diagnosed with any stage of cancer and you start chemotherapy for treatment. You have the problem of hair loss but you need to maintain your confidence. Our chemo turbans are the solution to this problem. We design them to give you hope and fight this lethal disease. Our chemo caps are unique, durable, comfortable, and protectable against certain infections. Order them from our website to give your scalp a protective layer from seasonal effects.