Choose from our elegant cancer Caps not only for women with hair loss! Chemo Caps and head coverings for summer or all season. All our Caps provide full head and neck coverage and will suit you beyond the cancer time.
Contact Us
Key Features
Elastic closure
100% Cotton Fabric, Softness, and Comfy for Head
One size fit to all size of the head
We have different and multi styles chemo caps for women.
Full head coverage for women undergoing hair loss due to chemo treatments for cancer patients.
Cooling cap to reduce hair loss.
The cooling systems of the scalp are well adapted. The caps are similar to helmets filled with a cold or liquid gel used during the chemotherapy infusions. These devices have helped many people stay a little or a bit of their hair when dealing with chemotherapy that can cause hair loss. The cooling systems of the scalp work by reducing the blood vessels under the skin of the scalp. With less medicine chemotherapy in the follicles, the hair can be less likely to fall. The cold caps also reduce the metabolic activity of the hair follicles, causing the cells to split slower and protect the follicles of chemotherapy.
Learn More
Product care information
1) Hand washes at 30 ° C.
2) You don't have to press it, just shake it to dry.
3) Be careful of viscous contents and open flames.
Buy Now
What is it?
The hypothermia of the scalp is cooling from the scalp with ice packs or cooling deck for a time before, during, and after each chemotherapy treatment to reduce hair loss. The newer versions of these devices use two-piece cool caps controlled by a computer, which helps circulate a liquid to circulate a PET using a person during each chemotherapy treatment.  The cold tapas (also called "manual cooling systems") are similar to ice packs. You need to keep the cold lids on a cooler with dry ice or a special biomedical freezer before using it.Each cooling cap is heated and undone as it uses. So, it must be replaced with a new cold cover every 20 to 30 minutes during a chemotherapy infusion session.  If you are interested in doing so, you need to coordinate with your doctor and a cancer treatment center in advance. You will need family members to change tapas for you during each infusion session. If your cancer treatment facility has a biomedical freezer, you can store it the night before your infusion session in the biomedical freezer. There are a few manufacturers who make cold tapas, cold chemotherapy caps, and Arctic cold lids. Some of these manufacturers have published teaching videos on their websites or YouTube channels. These can help you and the person who helps you understand how to use cold tapas.
Learn more
Live Support
How can it work?
The theory behind the hypothermia of the scalp in that the cooling is adjusted or limited to blood vessels on the scalp. It is believed that this limitation reduces the amount of chemotherapy that reaches the cells of the hair follicles. This can reduce the effect of chemotherapy in the follicle cells, as a result, reduce hair loss from the scalp.
What does research show?
Recent studies of women who receive chemotherapy for early stages. The most common side effects are headaches, the malaise of neck and shoulders, cold fever, and scalp pain. Some people with thicker hair low more likely to lose hair than those with a thinner layer of hair. It can be because the scalp is not cool enough due to the insulating effect of the hair. Non-adapted coders are also linked to more hair loss, often on spots where contact with the scalp is a deficit. Stay a few questions without response to the safety of hypothermia of the scalp.
Some doctors are concerned that cold chemotherapy may occur to reach any lost cancer that accumulates on the scalp. For the people who used the hypothermia of the scalp, the cancer reports on the scalp are scarce. More studies are needed to answer long-term security questions.
Contact Us
What do I have to do?
Some newer cooling caps are removed, such as the Digital and Paxman cooling systems, were eliminated for use by US drug and food management. Uu (FDA).  Allow patients to use it. If you are considering using the hypothermia of the scalp, it is important to thoroughly weigh the benefits, discomfort, and potential risks. Discuss the advantages and disadvantages of this option with your cancer treatment doctor. You can also ask if the treatment center has experience in using cooling tapas and what successful they were.  Another consideration can have costs. The oldest types of tapas are usually not covered by insurance, and it is not yet clear whether the use of newer and computer-controlled systems will not be covered. It is important to consult with your insurance company to see what can be covered before starting your treatment.
Most of us offer important attention to our appearance. We are concerned about the way we see each other, especially when we are outside with social obligations. People often follow the trend modes to keep up with contemporary appearances and improve external features.  Under this, the hairstyle looks more prominent and is considered a feature with its wide variety of style patterns. Women with shorter hair or those who undergo medical treatments such as chemotherapy often consider emotional break due to lack of hair. They can even spend personality problems through these conditions. In the past, people often wear wigs to cover the problem. And artificial appearances did not give the convenience of 100% or the desired aspect for the problematic situation.
Different styles of chemo caps for women
Different styles of chemo caps for women. The fashion stop of the styles found the perfect solution for the subject. Even if it consists of short hair or no hair. The tapas will give you the fashionable look that you always want.
Chemo Caps for women helped to increase trust in women with their unique textures and styles, while sensitive Cayurados are protected, especially during the winter season. Files Chemotherapy for women without hair or those who have insufficient volumes of hair to make styles. Well benefited from going through these iconic characteristics of each variety. And do not hesitate to collect the best option for your decoration. High-quality soft and breathable chemo caps for women is an ideal for those with hair loss problems, especially if it is going through medical treatments or experiencing a post-operative situation.
Soft materials and size:
These cute turban hats are made of soft sidewalks of milk, light, comfortable, and easy to use breathing, can also be a sleeping hat.  The perimeter of the head is 20.5-22in, the trials are highly elastic, a size adjusted to most women two styles for their choice
Style A of chemo caps for women
Style A to all solid colors of sweets, such as black, dark blue, gray, yellow, white, coffee, peach, red, true blue is the half-sew fabric and the braided braid, not all total whole braids on the hat that can not be exchanged. The other style A of all colors of tie-dye, leopards, and all styles D of all print colors is the total style of braids. Style A of all the solid colors of caramel is the sewn medium. And half braid, not all entire set in the hat that cannot be changed total braids include black, blue, gray, yellow ginger, white, white, peach, Red, Blue Real 9 colors. The other style A of all colors of tie-dye, leopard, and all colors of all print colors is the total style of entire braids include:
Tie-dye:
In Tie-dye colors include Blue Real, Gray, Red Wine, Green Green, Dark Pink, Light Pink Gray, Green Mint, Orange Yellow, Blue Pink, Dark Orange, Orange 11 Colors
Printed:
In printed colors include Black Flower, Black Pink Flower, Leopard Print, Gray White Flower, Blue Flower, Red Green Flower, Black and White Latish, Rose Flower, Pink Flower, Yellow Flower
Tully Printed Colorful Head Wrap:
Multicolored stretching turbans of beautiful and ingenious colors of charm. They can fit most of the clothes and will save on very fashionable braid and braid designs. Braided designs pre-connected to fashion is Linda Kawaii and elegant. You will In a fashion lady when you use it.
This beanie is standard equipment, simply wear it as it is and relax in comfort. This chemo beanie is a stylish and comfortable alternative to wigs.
Shop now
Chemo Cap Cloe
This cool cap will help you to cope with the chemo side effects in an easy way. Simply wear the beanie without cuffing it, so that it covers your ears.
Shop now
Chemo Cap Diana
This chemo cap is a stylish and comfortable alternative to wigs. This cool beanie will help you manage the side effects of chemo in an easy way. Just wear the cap with the cuff folded down so that it covers your ears. The front should be just above your eyebrows.
Shop now
Turned braided sparrow can hold a hat to her hairstyle. The fabric lid also fits women with short hair, and strict adaptation guarantees use together. Antibacterial functions and odor properties highlight your health benefits. This is also often referred to as an elegant and comfortable alternative to wigs.  This head is specially designed for cancer patients that constantly lose their hair due to medication. The Lace member is made of quality material with the hand consisting of bamboo viscose and covers its full head area to the neck of your neck. The soothing texture of the CAP is the ideal selection. And this cap is an ideal choice for sensitive scalp and can prevent the cause of irritation and scratch discomfort.
More about us
Multipurpose Caps
These chemo caps for women are versatile caps that can be used as a headband, scarf, turban, or neck warmer. Suitable for those who feel cold during chemotherapy.This cap is available in sizes that fit all head sizes and is comfortable for the head and ears.The breathable cotton material with elastic fasteners makes the hat fit comfortably in the shape of your head, making it an ideal sleeping cloth.gluecksmuetze.com also offers prints to suit your mood.

How to wear chemo caps for women ?
Chemo Caps for women are first stored in the freezer and fill with cold liquid stored in the -40 ° F refrigerator.
These shells are comfortable but narrow, cover the natural hairline and completely cover the head.
These hoods are first worn before the session to prepare the hair for treatment.
It is then used during chemotherapy but is replaced every 30 minutes.
It will be reused after processing.
Learn more
Shop now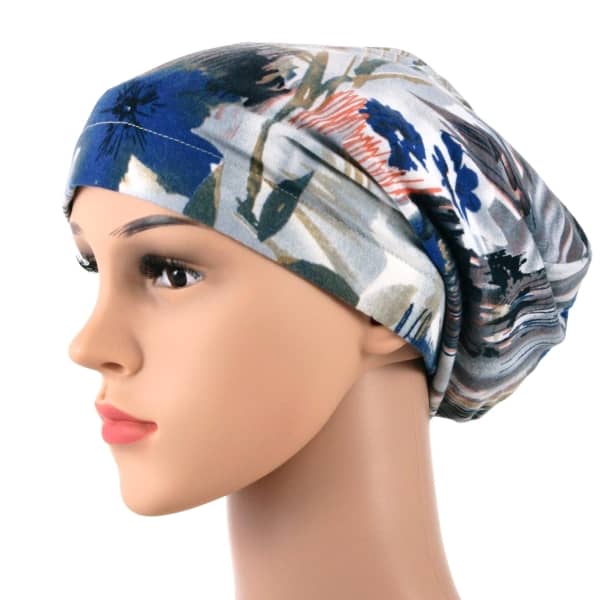 Where to shop
One of the biggest mistakes many women make when buying headgear is not going to a specialty store. Gluecksmuetze.com not only offers a wide range of products tailored to the needs of cancer patients, but its staff has extensive knowledge and experience in the types and characteristics of chemotherapy caps and hair hats, making it easier

Shop Now